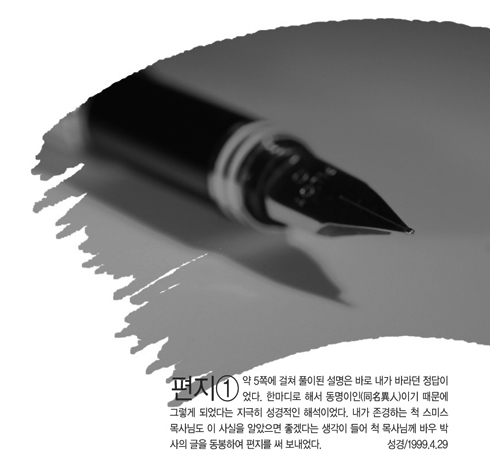 척 스미스 목사님께
드리는 편지

April 29. 1999
Pastor Chuck Smith
Calvary Chapel Costa Mesa
3800 South Fairview Road
Santa Ana, CA 92704
U.S.A.


Dear Pastor Smith:
Let me introduce myself to you. My name is Hann Tchah and I'm working at Seoul Red Cross Hospital as a pediatrician. Pastor Duke Kim is my brother-in-law, so I had attended your Sunday services according to his advice while I had been at UCLA medical center for 2 months in 1995. I was very impressed then by all of your preachings even though I couldn't follow you completely because of my poor listening in English. And I really thank God for Grace has come into me so much through you thereafter.
Last year I participated in your seminar for Korean pastors since I love to hear the Word of God although I'm not a pastor. At that time I was also deeply touched by your teachings. Now I'd like to send you my thankful heart over again within this letter.
By the way, at the last session of that seminar I asked you a question as follows: "Does 2 Kings 8:26 contradict 2 Chron. 22:2 about the age of Ahaziah?" I thought that your answer was very reasonable in perspective of a theologian. After I came back to Korea I asked the same question to one of my best friends in the Lord. Then he gave me a book which has a very plausible answer about that.
I am enclosing herewith a copying part of the book entitled "the book of Bible problems". I wish that Grace do much more abound all over the world through you till the Lord come.
Thanks and God bless you and your ministry!

In Jesus Christ,
Hann Tchah

WAS AHAZIAH 22 OR 42 WHEN HE REIGNED?
2 Kings 8:26 Two and twenty years old was Ahaziah when he began to reign; and he reigned one year in Jerusalem. And his mother's name was Athaliah, the daughter of Omri king of Israel.
2 Chronicles 22:2 Forty and two years old was Ahaziah when he began to reign, and he reigned one year in Jerusalem. His mother's name also was Athaliah the daughter of Omri.
Not only does this rate as one of the most difficult and best known of the Bible's problem texts, but there are several problem texts associated with it. To begin with, we are told that Ahaziah was 22 when he became king; but the other passage says he was 42 years old.
Although it is commonly thought that there was a 20-year gap between Ahaziah's coronation and his actual reign, such does not follow from the chronology of the kings of Israel (see the Chronology Chart at the end this chapter).
Futhermore, it is occasionally said that this an error in the King James Bible. That is simply not true. It is an error in the "originals," too, as witnessed by the following two Jewish reconciliations.
Rabbi David Kimchi (born A.D. 1190) explained it by saying that Jehoram, Ahaziah's father, ruled more than the eight years attributed to him but he only exercised his royal authority for those eight years, at the end of which he fell into the power of the Arabians and suffered his illness. With that the people raised Ahaziah, who was then twenty-two, to take charge after his father who lived yet another twenty years. Upon his death, the people re-elected Ahaziah who then ruled solo for one year after his father.
The problem with this scenario is the same problem as mentioned above in connection with a twenty-year gap, namely, there is no room for such a gap in the kingdom of Israel unless Jehoram of Israel also ruled an additional twenty years beyond the length attributed to him in scripture.
Rabbi Levi ben Gershom proposed another resolution: he clamed that the forty-two years are not to be reckoned from the birth of Ahaziah, but from the start of his family's rule, that is, from Omri. As can be seen from the Chronology Chart, this does work if one started counting from the end of Baasha's reign at which time the Northern Kingdom, Israel, was divided, with half of the people following Tibni while the other half followed Omri (1 Ki. 16:21-22).
Despite that at times the scriptures do reckon reignal durations in such fashion as Gershom's resolution, it does not suffice in this case. An examination of the context shows that there were two Ahaziahs. Indeed, a detailed study of the history of the kings of Judah and Israel starting with Ahab will serve to present several problem texts with their resolutions. Such a history will also set the stage for presenting the two Ahaziahs.
Ahab starts to rule Israel in thirty-eighth year of Asa king of Judah, and he rules for 22 years. Asa's son, Jehoshaphat starts his reign in Ahab's fourth year. He is 35 years old and rules for 25 years.
Ahab is such a wicked king that his posterity is cut off (1 Ki. 21:21). In response he humbles himself so that God postpones the cut-off until his son's days (1 Ki. 21:29). Despite Ahab's wickedness, Jehoshaphat "joins affinity" with Ahab by allowing the marriage of his son Jehoram with Ahab's daughter (2 Ki. 8:18; 2 Chr. 18:1 & 21:6). This happened around the ninth year of Jehoshaphat's reign.
In the 17th year of Jehoshaphat's reign, Ahab makes his son Ahaziah co-regent but he reigns only 2 years (1 Ki. 22:51). During that time Ahaziah falls through an upper lattice and some time thereafter he dies of his injuries (2 Ki. 1:2 vf.). After Ahaziah's fall, his father appoints his brother, Jehoram, to assume Ahaziah's royal duties. Ahaziah is still alive at the time. Thus in the second year of Ahaziah and the 18th year of Jehoshaphat, there were three kings in Israel: Ahab, Ahaziah, and Jehoram. Jehoram will rule 12 years (2 Ki. 3:1).
The year that Ahaziah started his co-regency was also the year that Jehoram was named Prorex of Judah by his father, Jehoshaphat (2 Ki. 1:17). Jehoram will not assume a real co-regency for another five years (2 Ki. 8:16). Note: at this time both Israel and Judah have kings named Jehoram (or Joram). They are two different men.
After the death of his son Ahaziah, with his other son, Jehoram as co-regent, Ahab convinces Jehoshaphat to join him in a war against Syria. In the ensuing battle Ahab dies (1 Ki. 22:26 vf.) and his son Jehoram, starts to rule alone in Israel. He will rule in Israel the entire time through which the following events occur in Judah.
In 2 Chr. 21:2-4 we learn that after Jehoshaphat's death, his oldest son, Jehoram whom Jehoshaphat had appointed as co-regent, moves to consolidate his kingdom. He does so by slaying all of his brethren and some of the princes of Israel. This implies that some of the princes of Israel may have had a claim on the throne of Judah, probably because of complications resulting from Jehoshaphat's "joining affinity with Ahab." Needless to say , God is not pleased with the slaughter and he afflicts Jehoram with a disease of the bowels, until his bowels fall out and he dies.
Besides the illness, the Lord also stirred up against Jehoram the spirit of the Philistines, and of the Arabians. These killed all his sons except for Jehoahaz, the youngest of his sons (2 Chr. 21:15-17). After all this Jehoram dies (v. 18).
At the time of his death Jehoram is forty years old (2 Ki. 8:17 & 2 Chr. 21:20). His youngest son, the only one left him, is Ahaziah and he is 22 years old when the inhabitants of Jerusalem made him king in Jehoram's stead (2 Ki. 8:26). And this brings us to our problem text, for according to 2 Chr. 22:1, Ahaziah is 42 years old at the time: a year older than his father.
The first hint that there may be two Ahaziahs is found by comparing the starting reigns. In 2 Ki. 8:25 we read that the 22-year old Ahaziah started his reign in the twelfth year of Jehoram, king of Israel. In 2 Ki. 9:29, however, we are told that Ahaziah started his reign in the eleventh year. We are also told that Ahaziah ruled one year, but the eleventh year would dictate two years. Now it could be that Ahaziah's coronation occurred on the eleventh anniversary of Joram's coronation, the ceremony starting in the eleventh year of Joram and ending in the twelfth year. Or it could have taken a while for Ahaziah to consolidate his power, starting in Joram's eleventh year and finally consolidating his power in the twelfth year. But is could be, too, that there were two Ahaziahs.
The strongest indication that there were two Ahaziahs is found in 2 Ki. 10:13. There we are told that Ahaziah has brethren! But 2 Chr. 21:17 clearly states, and 22:1 confirms it, that only seed left Jehoram of Judah is Jehoahaz, also known as Ahaziah. Besides this, it says of the 42-year old Ahaziah that "His mother's name also was Athaliah, the daughter of Omri" (2 Chr. 22:2). Why would the scripture say "also" unless there were two of her sons in view?
The final resolution is now apparent. Athaliah, Ahab's daughter, already had a son when she married Jehoram the son of Jehoshaphat. That son's name was Ahaziah. Probably Ahaziah was old enough that he may have spent most of his days in the courts of Ahab. Some time later Athaliah bore a son to Jehoram and he was called Jehoahaz. Eventually he acquired the nickname Ahaziah. So Jehoram had sons named Ahaziah: his youngest son, and a step son who was 20 year older than his biological son. Indeed, his step son was a year or two older than Jehoram himself. This solves how Jehoram could have a son two or three years older than himself (see Chronology Chart).
Jehoram was afflicted with the disease of his bowels during the last two years of his reign (2 Chr. 21:19). Halfway through that affliction, he appointed his step son king (in the eleventh year of Jehoram of Israel). Not too long afterwards, in the twelfth year of Jehoram of Israel, the people of Jerusalem crowned the youngest son of Jehoram king. Perhaps the 22-year old Ahaziah was not up to reigning on his own. In any case, it is evident from the duration of Jehoram's reign that he died in the same year as both Ahaziahs (see the Chronology Chart at chapter's end).